Companies Relying on Online Lead Generation Are More Profitable
Firms that embrace online marketing grow faster, according to a study by Hinge Research Institute. The study surveyed 500 firms and 20 online marketing experts.
Key findings about the faster growing companies include:
Firms generating 40% or more of their leads online

grow 4x faster

than those with no online leads
High growth firms obtain 63% of leads online while average firms obtain 12%
In terms of profitability, the report explains:
The greater a firm's online lead generation, the greater its total profitability
Firms generating 60% or more of their leads online

are 2x more profitable

than those generating less than 20% of their leads online
Digital Marketing: High Growth Firms vs. Average Growth Firms
The high growth firms are more focused on nearly every online technique: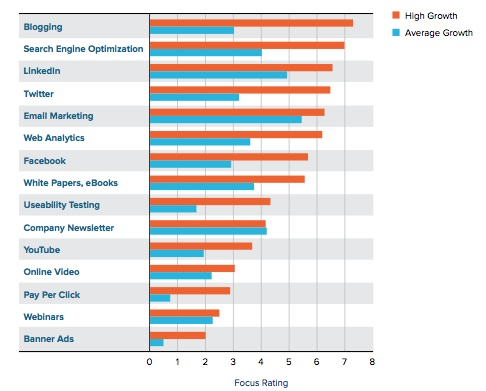 Digital marketing is here to stay and will grow in importance:
Over 77% of firms are generating at least some new business leads online.
Around 66% of companies are planning to increase digital marketing in the next year, with an average anticipated increase of 56%.
Just less than 50% of companies have redesigned their website in the last year.
Where Should B2B Marketers Focus?
Based on the recommendations of the experts polled in the study, as well as what works for high growth firms, the study points to the following action steps:
Build a Solid Foundation

- Two techniques that are fundamental to any success in digital marketing and should be implemented before any other steps: 1) search engine optimization, and 2) web analytics.

Create Valuable Content

- Build a library of valuable information so that you can attract more visitors and put more leads in the top of the sales funnel. Examples of valuable content include blogs, white papers, ebooks and articles.

Nurture Your Audience

- Periodically email your audience with educational content such as company e-newsletters. Webinars are another means of providing useful information to cultivate customers and prospects.

Promote Your Activities with Online Networking

- Using social media, you can interact with people online to deliver your message and generate interest in your company. Effective tools include LinkedIn, Twitter, Facebook and YouTube.
Source: www.artillerymarketing.com - Written by: Douglas Burdett
TAGS:
Online Lead Generation
Conversion Optimization
Marketing Funnel